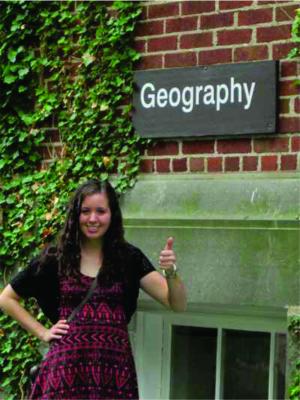 Samantha Feist graduated in June 2015 with an Honours Bachelor of Science in Physical Science with a Chemistry minor from Guelph. Having started her undergraduate degree as a chemistry student, she did not realize her love for Geography and Earth Science until her second year. She took the Natural Hazards Geography class as an elective in her first year, which eventually helped her realize her true passion. The flexible nature of her degree program allowed her to take many Physical Geography courses, as well as some courses from the School of Environmental Sciences. Changing her major significantly improved her enjoyment of courses, and as a result, her performance in coursework.
Though she was not officially in a Geography program, Samantha was still very much involved in and felt a part of the Geography Department. She found the Hutt Building to contain a friendly, tight-knit community where you were always welcome. She took many of the physical geography classes, and actively participated with the Geography Society as Communications Liaison in her final year at Guelph.
In the summer of 2014, Samantha had the opportunity to work for Dr Jaclyn Cockburn as part of the Surface Processes Research Group. She found this opportunity was an excellent experience to learn about the research side of academics, and it sparked her interest in pursing a Master's degree. Samantha decided to continue her work from the summer with Dr Cockburn as an Independent Study project in the final semester of her degree. She found this project improved her independent learning skills and provided practice in writing at a higher academic level.
If she had to choose one class that stands out from her undergraduate degree it would have to be Sedimentary Processes (now called Catchment Processes). A capstone course for the geomorphology series of courses, she found it helped integrate previously learned concepts and ideas to understand how they fit together. Though the class was more seminar-style rather than traditional lectures, Samantha feels that she gained a lot in the form of skill development, which will be applicable to both her future studies as well as her future career.
Samantha is continued her education in September 2015 with a Master of Science in Earth and Environmental Science at McMaster University, and intends to eventually obtain her Professional Geoscientist Certification with the APGO.