Building a Research Agenda for Reducing Food Waste in Ontario

This website catalogues the outcomes from a workshop held on February 18-19, 2016, hosted by the Guelph Food Waste Research Group.
---
Workshop Overview
What is food waste?
Food waste refers to the spoilage of edible foodstuffs intended for human consumption. Food waste occurs across the value chain, from harvest to consumption, for various reasons. Management systems that address diverted food waste can often be used to recover energy and nutrients from other organic wastes as well, including food scraps.
What was the purpose of this workshop?
To contribute to a research agenda on food waste across the value chain in Ontario, and to contribute to policy conversations on the regulation and management of food waste.
Who was invited to this workshop?
Actors across the food value chain who manage food and waste, including producers, processors, transporters, retailers, restaurants / caterers, municipal waste managers, and food recovery organizations;
Policy makers who influence decisions about food waste at the municipal and provincial scales; and
Individuals and organizations who conduct research on food and waste systems.
Reports
Setting the stage: Introductory address
Presentation slides: Building a Research Agenda for Reducing Food Waste in Ontario
---
Eight Priority Areas for Action
Reduce consumer and non-consumer food wastes

Improve household food literacy

Optimize portion size and packaging (retail and restaurant sectors)

Clarify and improve food labeling (e.g. best before dates)

Incorporate imperfect foods

Increase food diversion for human consumption

Recover food waste for non-human use (e.g. feed, composting)

Coordinate policy and governance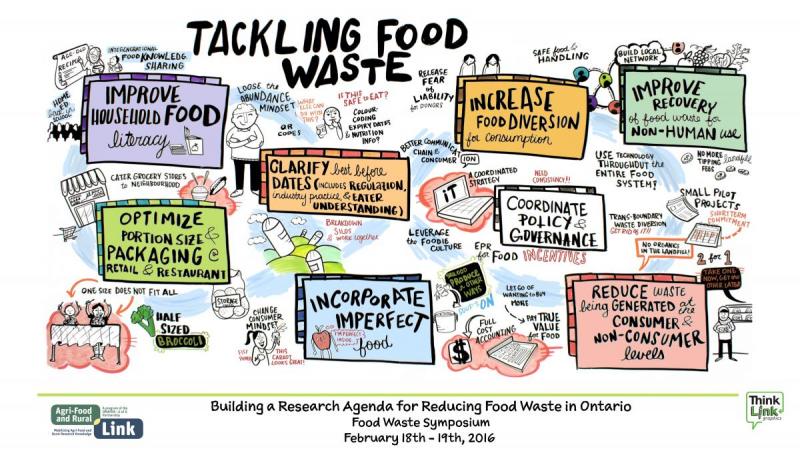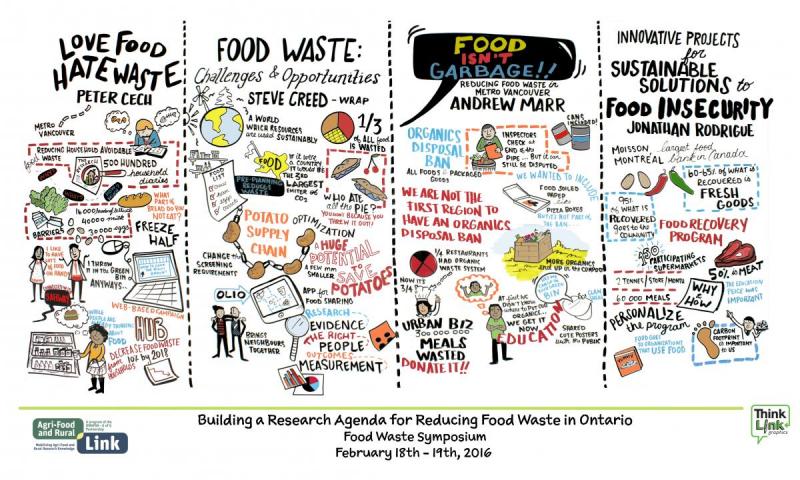 Panel Discussion: "Building multi-sectoral solutions for good waste: Lessons from other jurisdictions"
Peter Cech - Communications Specialist (Metro Vancouver)
Steve Creed – Director of Business Development (WRAP UK)
Andrew Marr - Director, Solid Waste Planning (Metro Vancouver)
Jonathan Rodrigue - Director of Business Development (Moisson Montreal)