---
Kat completed her BA degree in 2012 at the University of Guelph, specializing in Geography and Geographic Information Systems (GIS) and her MSc in 2014.
---
After completing her degrees, Kat Woodrow is now employed as an Environmental Scientist and Project Manager at an Environmental Consulting firm in Milton. Kat has completed numerous projects across Ontario and in Alberta with a focus on fluvial geomorphological processes. Specifically, she provides technical support to complete stream restoration designs, erosion hazard delineation, and erosion assessments in support of stormwater management. Most notably, Kat is the Studies Group Manager responsible for overseeing and coordinating all ongoing environmental studies, including Subwatershed Studies, Master Environmental Servicing Plans, Environmental Implementation Reports, and Environmental Management Plans. This requires an in-depth understanding of Municipal and Provincial Planning Legislation as well as basic knowledge in a range of disciplines, including geology, hydrogeology, sedimentology, hydrology, and ecology.
---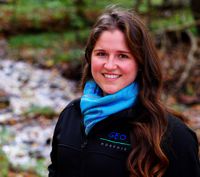 Kat recommends: Saying YES to every opportunity that comes your way, even if it seems daunting - this will foster initiative and problem-solving skills like you would not believe, and it makes you a far more well-rounded individual. Network, network, network! Learn to communicate your work confidently and competently - is just as important as the work itself!
---