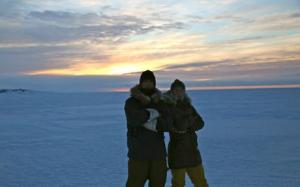 Geneviève Lalonde is completed her undergraduate degree at the University of Guelph in the BSc. Environmental Sciences major in Geography.
She was an Academic All-Canadian and member of the nationally acclaimed varsity cross-country and track and field programs. She has also contributed to various on-campus environmental initiatives including the Environmental Science Symposium and assists with the promotion of youth in sport programs both in Guelph and her hometown of Moncton New Brunswick.
In February 2014, under the guidance of Dr. Tristan Pearce and Dr. Benjamin Bradshaw, Genevieve conducted field research in the Canadian Arctic. Her research addresses community concerns regarding the relevance of formal education for young Inuit and examines perceptions of learning success among Inuit and southern educators.
Lalonde and Dr. Pearce worked with community partners to conduct semi-structured interviews with over 35 Inuit students and southern educators to document perceptions of learning success and the tools required to achieve success. The research is highly relevant as the negotiations are underway between the community and Beaufort Delta Education Council regarding the timing of the school year and curriculum. It is hoped that this research will contribute to the broader conversation on the development of culturally relevant and appropriate education in the Arctic.
Lalonde strengthened her relationships in the community, and expanded on this research through her graduate studies in the Department of Geography earning her Masters Degree while also competing in the Women's Steeplechase event in the Olympics.