Emily De Sousa is an Environmental Governance student fighting to bring marine conservation issues to the forefront of environmental discussions.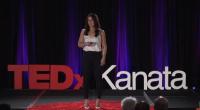 Ever since becoming a scuba diver Emily has been startled by the destruction that lies below the surface of our planet and even more alarmed that no one seems to be taking notice. She's dedicated her talents to being a voice for the ocean and fighting against several harmful issues including plastic pollution, shark finning, and unsustainable fishing.
Emily has found a way to combine her academic background in Environmental Governance with her passions for digital media in order to advocate for the oceans and the planet, and educate the general public about environmental issues. She founded her own website, Airplanes & Avocados, where she writes about sustainable travel and aims to use visual media such as photos and videos to translate environmental issues into media projects that are comprehensible to the average person. In March 2018, Emily gave a TEDx talk about plastic pollution in our oceans.
Emily is very interested in science communication and international environmental governance. She hopes to further study best practices for communication within the environmental arena and how to translate that knowledge into tangible actions by governments across the world. Additionally, she hopes to further develop her filmmaking skills to shoot an underwater documentary about our oceans.
Despite jug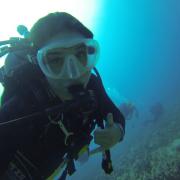 gling many extra-curricular activities, Emily has continued to maintain academic excellence in all of her courses at the university. Emily is heavily involved in the Environmental Governance Society, serving as a second year representative, the Communications Director, and most recently, Co-President of the society. She is also the Campaign Coordinator for "Tap In", an initiative she launched in 2017 to fight to end the sale of bottled water on campus. She was also a member of the core planning team for Sustainability Week in 2018.
Emily is also active off campus, within the Guelph community and beyond. She sits on the board of Wellington Water Watchers a local group dedicated to water protection. Additionally, she works for the Green Party of Ontario as a Special Events Coordinator and was the Green Party candidate for the riding of Oakville in the 2018 Provincial Election, where her platform focused on education and water issues.