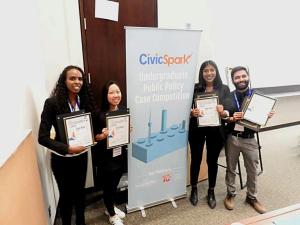 Assim Sayed Mohammed and Ashley Bastianz - were part of a team that won the Third Annual CivicSpark Case Competition, which was based on the problem of urban greenhouse gas emissions. Both students are in the B.Sc. (Env) program, but credit their win to knowledge they gained from their Geography courses, particularly GEOG 4210 (Environmental Governance). In their words "Not only is this win a huge opportunity for our personal development, but it is also a great reflection of everything that the university and Department of Geography are doing right." Assim and Ashley both encourage other students in the Department of Geography to take part in this competition for the years to come, and hope future competitors use the knowledge gained from the Geography courses they have taken, it really helps to win!
---
About the competition:
"Founded in 2015 as a chapter of CivicAction, CivicSpark is an organization dedicated to empowering a new generation of city builders. By providing a non-partisan platform, they will bring together university students across the region and develop creative solutions to real issues being faced by the GTHA."
The Third Annual CivicSpark Case Competition was based on the problem of Urban Greenhouse Gas Emissions. The teams had to come up with a solution to reduce GHG emissions from Toronto by proposing a method of governance that involved the state, community, and market, while maintaining a budget below $450,000,000 between now and the year 2020. The teams also had to prove how their proposed method would help not only short-term GHG reduction initiatives, but how their proposals would facilitate long-term initiatives as well. After all the teams had presented, the top four teams were selected to take part in a final case, in which they had to solve a transit planning problem within 30 minutes. Other competitors came from the University of Toronto, McMaster University, Queen's University, and Ryerson University, among many others.