---
Samantha is a recent graduate from the Environmental Governance program and has a wealth of experience volunteering and leading action projects on campus and in the community.
---
During her degree, she sought out as many experiential learning opportunities as possible to supplement geography, political science, and economic courses.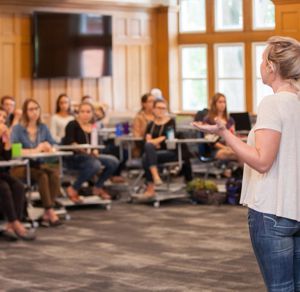 Samantha's advice to all GEG students is to seek out experiences and opportunities on-and-off campus in areas where you want to make an impact. Samantha enriched her Environmental Governance degree and time as a UofG student by volunteering, seeking out leadership opportunities, diversifying her program electives, and attending an exchange semester to Lund Universitet in Sweden.
During the later years of her undergraduate degree, Samantha was the lead organizer for the University of Guelph's Sustainability Week for 2018 and 2019. She was also the student campaign manager for the Sustainability Action Fund referendum, creating a renewing financial fund for climate action projects (large scale and student-led) on the UofG campus until 2050.
Passionate about protecting urban biodiversity and empowering students to be co-designers of the campus's future, Samantha put forth the motion for the UofG to become a designated Bee Campus with Bee City Canada, which became official in Summer 2018. Since this designation, she has worked with a Sustainability Ambassador team to develop a pollinator corridor project behind the largest student residence on the UofG campus.
She now works to improve sustainability at the University of Guelph in a unique split position between Hospitality Services and the Sustainability Office. Samantha is the Digital Communications and Engagement Coordinator at the University of Guelph's Sustainability Office and Sustainability Coordinator at Hospitality Services.
She directly attributes her role to the time she spent volunteering and bringing forward ideas to improve sustainability while in her undergraduate degree, which she strongly urges all students to do.
Following her undergraduate degree, Samantha created the Sustainability Ambassador program. This program is action-oriented and works with students to develop projects focused on improving campus or community sustainability. Samantha works with students to develop, scale, and lead solution-oriented projects that target many of today's most pressing sustainability issues – climate change, fast fashion, waste management, and biodiversity loss.
During her spare time, she co-founded the Community Climate Council, a non-partisan not-for-profit organization focused on promoting climate literacy and civic engagement in Peel Region.
She also holds various community volunteer roles, including the Fundraising and Outreach Manager for Shake Up the Establishment, Youth Advisor for Healthy Schools Day Canada, and Board Member of 10Carden.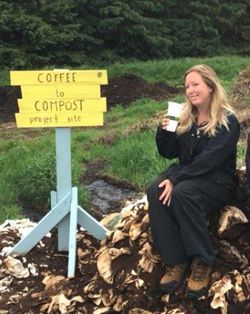 Samantha attests that her Environmental Governance degree provided her with the tools required to educate and mobilize others to act on pressing sustainability issues.