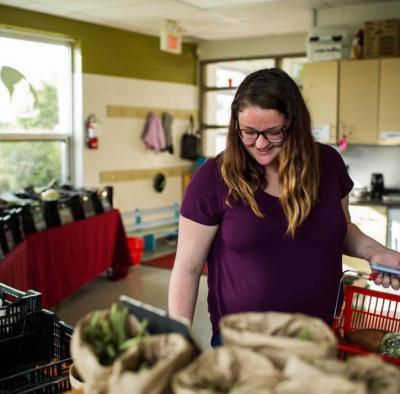 Madeleine is a recent Geography graduate passionate about food insecurity, climate change and community development.
She has volunteered across campus and in the community with Project Serve and The SEED where she developed her passion for community engagement and agriculture. She was the Geography Society Events Coordinator for two years where she helped foster a sense of community for current and future undergraduate students. Madeline has been an active volunteer with the department by volunteering for orientation week and the university fair throughout her undergrad.
She has spent the last year working for the Arrell Food Institute and Feeding 9 Billion where she helped organize events and connect groups across campus. She was recently the co-host of the Eat. Think. Vote event which brought together academics, community members and politicians to discuss food security in Guelph ahead of the Federal election.
Madeleine has helped with the growth and promotion of the F9B material developed by Dr. Evan Fraser, acting as the liaison between the program and teachers. She recently presented at the Ontario Association for Geographic and Environmental Education conference with her colleagues to help promote the material and department.
Madeleine acted as the Department of Geography, Environment and Geomatics Education and Outreach Coordinator where she worked to promote the department and geography to future students. She developed programming material and presentations for classrooms, developed curriculum guidelines and events for prospective students. She has been recognized for her work by being named the Canadian Association of Geographers Guelph 2019 award recipient, Gordon Nixon Leadership award as well as the Carl Rom Colthoff award recipient.
Madeleine is now continuing her work in the field and has joined the CREATE-Climate Smart Soils team (https://smartsoils.ca/person/madeleine-arsenau/) to examine the role of education and knowledge mobilization strategies used by farmers to access and apply soil related information into their practices.