---
Larissa Goshulak is a University of Guelph graduate who completed a Master of Arts in Geography (2017) and Bachelor of Arts in Environmental Governance (2015).
---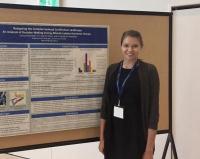 After writing her Master's thesis on seafood eco-certifications in Atlantic Canada, Larissa moved to Halifax, Nova Scotia to work for Fisheries and Oceans Canada (DFO), and currently is a Senior Advisor in the Resource Management division. In this role, Larissa manages stakeholder-led initiatives for retrieving ghost gear (fishing gear that is abandoned, lost or discarded at sea) from Maritimes region waters, as ghost gear increasingly kills marine life and pollutes Canadian waters with plastic waste. Additionally, Larissa oversees the divisional implementation of a suite of policies that integrate precautionary and ecosystem-based approaches into management decisions for Canadian fisheries.
Larissa credits much of her interest in environmental governance and fisheries management to the conversations, summer projects, and theses she pursued with Dr. Benjamin Bradshaw and Dr. Jennifer Silver.
---

Larissa is a strong advocate for connecting with Geography department professors outside of the classroom, as these interactions are a valuable way to explore new directions and opportunities for a future career.