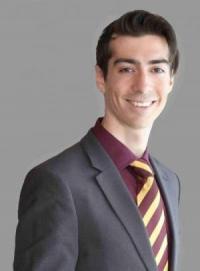 Alex Ciccone is a proud Environmental Science alumnus from the University of Guelph who currently practices environmental, municipal, and planning law in Guelph.
Since attaining his BSc.[Env] with a major in Environmental Geography, Alex went on to study law at the University of Victoria with an emphasis on environmental law. There he worked on the judicial review of the federal approval of the PNW LNG project which had the potential to be Canada's largest greenhouse gas emitter to date. PNW cancelled the multi-billion dollar project following this legal challenge.
As an environmental lawyer, Alex regularly appears before tribunals and courts representing municipalities, citizens and business in all matters of environmental and municipal issues from quarries and contamination to development approvals and appeals.
Outside of the office, Alex sits on the Board of Our Energy Guelph and Vegfest Guelph, the latter of which he also incorporated. He also offers pro-bono legal services to students through the University's Student Help and Advocacy Centre on campus. Alex also co-teaches a graduate course on Land Use Planning Law at the University. He can be found paddling his homemade canoe or riding his bike through Guelph's beautiful farm country.