Calvert, Kirby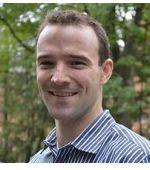 PhD, Queen's University, 2013
Dr. Kirby Calvert received his PhD in Geography (2013) at Queen's University in Kingston Ontario, where he worked with the Queen's Institute of Energy and Environmental Policy. Kirby joined the department in 2015 after a brief but fulfilling stint at The Pennsylvania State University (2013-2015). He specialize in the study of renewable energy development and transition management from the perspectives of human-environment studies, multilevel governance, and applied GIS.
Kirby's teaching and research program is best described as three interwoven threads:
Renewable energy mapping: combining site suitability analysis, spatial analysis, and participatory mapping to identify local opportunities for renewable energy generation. This work aims to provide decision-support for the integration of land-use and energy planning, and to better understand the land-use implications (land requirements) of more intensive renewable energy development
Changing energy landscapes: policy gap analysis (document analysis) and mixed qualitative methods to understand how social relations to land co-evolve with emerging forms of energy production and use (e.g., land-use planning systems; landscape values; land-based livelihood strategies)
Community energy planning: community engaged research to understand the barriers, opportunities, and implications related to the decentralization/evolution of energy planning systems, and the changing role of the 'community' in energy governance and energy transitions.
Kirby is Co-Director of the Community Energy Knowledge-Action Partnership (CEKAP); a national partnership of universities and non-academic partners with a shared interest in building more resilient and sustainable communities through community energy planning (www.cekap.ca). He is also a member and co-Chair of the City of Guelph's Community Energy Initiative Task Force.
GEOG*1220 Human Impact on the Environment
GEOG*4210 Environmental Governance
GEOG*4690 Geography Field Research
GEOG*6340 Human Environment Relations
Calvert, K. 2015. From 'energy geography' to 'energy geographies': perspectives on a fertile academic borderland." Progress in Human Geography, Published online first, DOI: 10.1177/0309132514566343
Birch, K., Calvert, K. 2015. (Re)thinking 'drop-in' biofuels: on the political materialities of bioenergy. Journal of Science and Technology Studies 28(1): 52-72. [Special Issue on The Politics of Innovation for Environmental Sustainability: Celebrating the Contribution of Stewart Russell (1955–2011)]
Calvert K., Simandan D. 2015. A polymorphic approach to environmental policy analysis: the case of the Ethanol-in-Gasoline Regulation in Ontario, Canada. Geografiska Annaler: Series B, Human Geography 97 (1): 31–45.
Calvert, K., 2015. Energy and Society. In: James D. Wright (editor-in-chief), International Encyclopedia of the Social & Behavioral Sciences, 2nd edition, Vol 7. Oxford: Elsevier. pp. 615–620
Calvert, K., Mabee, W. 2015. More solar farms or more bioenergy crops? Mapping and assessing potential land-use conflicts among renewable energy technologies in eastern Ontario, Canada. Applied Geography 56: 209-221.
Calvert, K., Mabee, W. 2014. Spatial analysis of biomass resources within a socio-ecologically heterogeneous region: identifying opportunities for a mixed feedstock stream. ISPRS International Journal of Geo-Information, Special Issue on GIS for Renewable Energy 3(1): 209-232.
Calvert, K., Luciani, P., Mabee, W.E. 2014. Thematic land cover map assimilation and synthesis: the case of estimating biomass supply in eastern Ontario, Canada. International Journal of GIS 28, 274-295.
Calvert, K., Pearce, J., Mabee, W.E. 2013. Toward renewable energy geo-information infrastructures: applications of GIS and remote sensing that build institutional capacity. Renewable and Sustainable Energy Reviews 18, 416-429.
Blair, M.J., Calvert, K., Manion, M., Earley, S., Mabee, W.E. 2013. Linking analysis of market and material flow to inform Canadian forest biorefinery development. Journal of Science and Technology for Forest Products and Processes 3, 1-15 [Official journal of the Pulp and Paper Technical Association of Canada, Special issue on 'Biorefining'].
Calvert K. 2011. Adaptive strategies for a PhD candidate to a changing academic environment: diversification and time-management. The Geographical Bulletin 52, 81-86. [Special issue on 'Maintaining Sanity in Graduate School', Published by Gamma Theta Upsilon, The International Geographic Honor Society]
Calvert K. 2011. Geomatics and bioenergy feasibility assessments: taking stock and looking forward. Renewable and Sustainable Energy Reviews 15, 1117-1124.
Calvert K., Simandan D. 2010. Energy, space, and society: a reassessment of the changing landscape of energy production, distribution, and use. Journal of Economics and Business Research 16, 13-37.
Social and Spatial Dimensions of Energy Transition
Dr Calvert is interested in working with a graduate student on a project that would involve participatory mapping and / or spatial analysis to better understand how renewable energy development is reshaping social relationships to land, broadly speaking. The project could touch on themes in energy geography, landscape studies, political ecology, and other related perspectives / conceptual frameworks. Our aim is to develop processes for community involvement in energy planning, while improving urban-rural relations as the transition to renewables continues to unfold.
Interested candidates should email Dr. Kirby Calvert at calvertk@uoguelph.ca

. If planning to apply, please first provide Dr. Calvert with an unofficial transcript, a writing / research sample, and a resume before submitting an application to the University.
Graduate Students Supervised